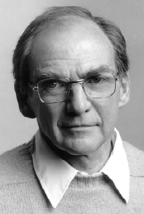 Between leading tours in a restored colonial town, studying slavery in western Massachusetts, and developing a set of posters for "Physics on the Bus," Robert Romer hardly seems as if he's retired. He's had many interesting and varied experiences over the course of his career, and he continues to do so.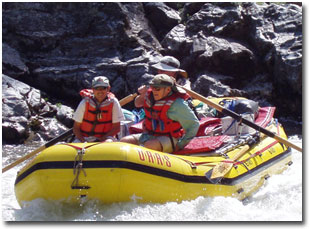 Robert Romer (front right) on the Salmon River in Idaho. (It looks as if Bob has his hand on an oar, but that's really the guide's hand; Bob is actually seriously engaged in holding onto the strap behind him with both hands!)

Romer studied physics at Amherst as an undergraduate and then went to graduate school at Princeton University. One of his most memorable experiences was a half hour with Einstein.
"We talked about a lot of things. I was a second year graduate student, and he was Einstein," recalls Romer. "We talked about evolution, among other things. We talked about the atomic bomb. He asked me about quantum mechanics. He asked me the basic question: 'Do you really believe that if we were to measure the spin of an atom over here, that it would affect the spin of an atom way over there?' I don't remember what I said, but I knew I was not adequate to the question."
After receiving his PhD in 1955, Romer returned to Amherst, where he got into low temperature research, particularly nuclear resonance in liquid helium-3.
In 1969 Romer, who had been a civil rights activist, decided he wanted to do something really useful. What he could do best was teach physics, so he spent a year teaching at Voorhees College, an historically black college in South Carolina. "That was a pretty turbulent year," he remembers. "When I went south, I was thinking about a permanent career change, but staying there after the events of the spring of 1970 was just about impossible."
After returning to Amherst, Romer got into the "energy business", teaching physics to nonscience majors by combining basic physics with information about energy sources and uses, an approach that resulted in a novel textbook. He had long been a reader of and contributor to the American Journal of Physics [published by the American Association of Physics Teachers, http://www.aapt.org], and in 1982 he was appointed AJP's book review editor and then was chosen to be editor of the journal in 1988.
Even though the editorship was supposed to be a half time job, Romer found it occupied all his time. "I did everything, everything but lick the stamps," he says. "In AJP, I could get immersed in the details of the physics, and in the writing. I learned a hell of a lot of physics by being editor, and it was real involvement with the authors and the papers. So that was wonderful."
Romer edited the journal for 13 years before retiring, somewhat reluctantly, from the position in 2001, at age 70. He officially retired from the Amherst faculty at the same time. "I had always wanted to retire from the editorship while I was still ahead. I loved editing AJP, and it was hard to give up," he says.
Then he had to figure out what to do next. "I wasn't sure what I wanted to do. So I thought the first thing I would do was sort out all the books in the garage. I thought that would take about two weeks, and then I'd think about what I was going to do."
But he quickly found many other activities to occupy his time (aside from hanging out in the physics department, where he continues to have space for a desk). Among Romer's many interests is slavery in western Massachusetts, something few people know about.
"My friends and neighbors didn't even know it existed, and I was barely aware of it when I began," he says. Romer first found out about slavery in colonial Massachusetts when he became interested in the restored colonial era town of Deerfield. He thought he'd look into being a guide there, at a house that belonged to the minister in the 1700s. Romer discovered that the minister had owned three black slaves. This discovery piqued his interest in digging further into slavery in the area at the time, and he has since become something of an expert on the subject. "I probably know as much about slavery in this area now as anybody does," says Romer.
He is now an occasional tour guide at the minister's house, frequently gives talks on western Massachusetts slavery to local historical societies, and takes school groups on walking tours of slave sites.
Though he is already an expert, Romer is still learning about these topics. "I spend quite a bit of time looking through documents and not finding anything. It's sort of like physics -- you do experiments, and mostly they don't work, but once in a while you find out something new."
Another of his projects is "Physics on the Bus," a set of posters with cute cats and dogs posing physics questions for bus riders to think about. The posters help get people interested in physics, or at least keep them entertained for a few minutes on the bus. They also include experiments people can try at home. (Physics on the Bus website: http://www.amherst.edu/~physicsqanda/)
One of Romer's favorite questions is the old puzzler that asks whether the water level in a lake would rise or fall if people in a boat throw an anchor overboard. "The problem is pretty easy to work out on paper", says Romer, "but I'm probably just about the only physics professor who has actually done the experiment. I wasn't going to go public until I really, really knew."
The posters are displayed on buses serving the Five College area and on the University of Georgia transit system, and Romer hopes to get them on more public transit systems.
Another one of Romer's hobbies is running. He has run the New York City marathon 11 times, and the Boston marathon 10 times. Though he says he's slower than he used to be (a 3:36 marathon in New York in 1992), he's still running – in June, 2004 he ran the Mount Washington Road Race. ("Only One Hill" – but 7.6 miles with an average 12% grade.)
So with all those activities, Romer is busy in his retirement. "I still haven't sorted out the books in the garage," he says, "and that was three years ago.
(APS interview by Ernie Tretkoff)